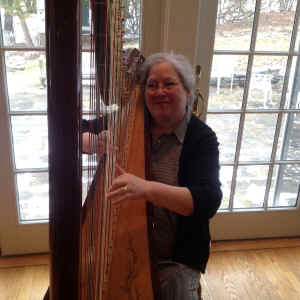 So You Always Wanted to Play the Harp
Lisa Craig Fenwick offers harp instruction to children and adults on both pedal and lever harp and has worked with beginners to more seasoned harpists. Lisa is an experienced teacher who is enthusiastic and nurturing and who will help you learn proper harp technique. She will introduce you to the wide variety of harp repertoire available today at all levels.
Emphasis on learning good practice methods will help you make meaningful progress on the harp.
Lisa has a limited number of small rental harps so you can begin your harp journey today, and can also connect you with other harp resources for rental or purchase.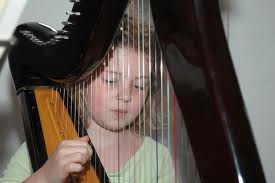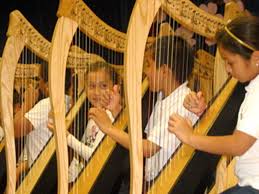 What Parents and Students Are Saying About Lisa
"I cannot thank you enough for your guidance over the years. Some people teach with harsh discipline; you teach with love. I have learned so much from you about music and myself. You have inspired me to make music an essential part of my life. I will remember your kindness forever and will spread your positive spirit wherever I go."
"Your love for the harp and for music is abundant when you teach and it is contagious. You are patient about explaining things until you are sure I really understand, and you are great at helping me find new pieces that I will really enjoy working on. "
"Lisa is very excited and passionate about music. She is teaching me so very much and is patient and kind with me and encouraging. I find myself looking forward every week to lesson day and cannot wait to get home and work on lesson assignments."
"Lisa is a natural teacher. Soon after both of my children started lessons with her I noticed she was able to pick up on their individual learning styles and gear their lessons toward what worked best for each of them, and she really has taught them how to practice with efficiency for the best results."
"Lisa is great with kids. She is full of ideas about how to make things better and will always try to find a new way to explain something if the student did not understand the first way. My daughter looks forward to her lessons each week."
"Lisa taught my daughter to practice in a smart way, and she really helped her to understand rhythm."
"I am one of Lisa's adult students and I started my harp adventure well after my 50th birthday with no musical background whatsoever. Lisa has been so patient with me, finding numerous ways to explain or demonstrate things if I do not get them at first. She is a joy to be around and I am making some real progress now and have recently started to share my music with my friends and family."
"I am adult beginner and look forward to my lesson each week with Lisa. She makes lessons enjoyable and explains things with clarity. She is so good at breaking things down and helping me find useful ways to practice things. She also lets me work on the music that I love. I always come out of my lessons smiling and proud."