Lisa Craig Fenwick

Harpist of the Finger Lakes

Based in Ithaca, serving Finger Lakes, Central New York, and the Southern Tier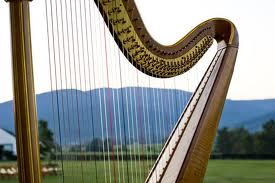 Live harp music is beautiful for:
| | | |
| --- | --- | --- |
| Harp Concerts | School Assemblies | Church Services |
| Weddings and Receptions | Commitment Ceremonies | Bridal Showers |
| Rehearsal Dinners | Grand Openings | Retirement Parties |
| Funerals | Holiday Parties | Corporate Events |
| Memorial Services | Baby Showers | Special Birthdays |
| Anniversaries | Gallery Openings | Naming Ceremonies |
Inquire about having me play a concert for your group. I would create a program that would be of interest to your unique audience. I enjoy playing programs for people of all ages and have a diverse repertoire sure to spark the imagination of your group. I often include a bit of harp history and enjoy sharing information about how the harp works.
About My Harps

I currently perform on 3 different but equally lovely professional harps.

I have two pedal harps that I perform on. These beautiful harps are both made the by French harp maker Camac and look alike except that one is a bit larger. I select the harp to bring for your special event that I think is most suitable to the location and occasion. The larger of these harps has 47 strings and is 75 inches tall. The smaller has 44 strings and is 67 inches tall.

I often do weddings on the 44-string pedal harp. Of the two pedal harps, the 44-string one is the one that I take outside most of the time.

The pedal harps are heavy and I need to know ahead of time about any steps so that I can decide if I can make the situation work with one of these larger harps or if I should bring my lever harp instead.

My 36-string Celtic lever harp is a full 5 octaves and is made from exotic bubinga wood by Dusty String Company. This harp has a lovely warm tone that carries well. I sometimes use this harp for weddings and private parties and is most often the harp of choice if getting married near a gorge. The harp is fairly easy to move and stairs are of minimal concern when I play this harp as it weighs only about 30 lbs. While I cannot play in direct sunlight with any of the harps, I sometimes choose this harp when asked to play outside. This is also the harp I use when performing in my harp duo Enchantment. The harp is 54 inches high. Please note there is some music in my repertoire that cannot be played on the lever harp.
Amplification is available for all harps but in many cases is not needed. I have a battery powered amplifier so electrical access is not required when I play outside. I have another larger electrical amplifier that I use when power is available, and for larger parties. The sound with the amplification is just to boost the volume of the harp but the harp continues to sound natural and acoustic.